Could your child use a Big Brother or Big Sister? For over 50 years, we've been able to recruit, screen, match, and support mentoring relationships that have changed the lives of thousands of young people – one child at a time.
SAFETY FIRST
All Bigs are background and reference checked, interviewed, and receive ongoing training and support. We ask that you stay involved by approving activities, asking your child about outings, and telling us about any milestones your child has reached.
MATCHING
Finding the right Big for your child is a priority for us. We look at personality, likes, dislikes, background, age, and location of the Big and your child. 
GETTING STARTED
When your child is matched, we'll call and give you an in-depth profile of their Big to approve. Bigs and Littles meet 2-4 times a month as part of our no-cost program. We suggest consistent dates and times so everyone can look forward to the fun.
Five years of friendship for Barbara and Flora! Get to know our Big Sister and Little Sister of the year!
GET A BIG –
CHILD ENROLLMENT PROCESS
Application
Apply today by visiting the link below.
Inquiry call
Schedule an inquiry call with us today by visiting the link below.
1-on-1 interview
Potential Littles and their families must complete a one-on-one interview with a BBBS-ETN staff member as a part of the matching process.
Get matched with a Big
Once a child's parent or caregiver has completed the rest of the process, BBBS-ETN staff members will determine if this is the best program for the child at this time. If they are accepted into the program, the youth will be matched with a Big based on experiences, backgrounds, and interests.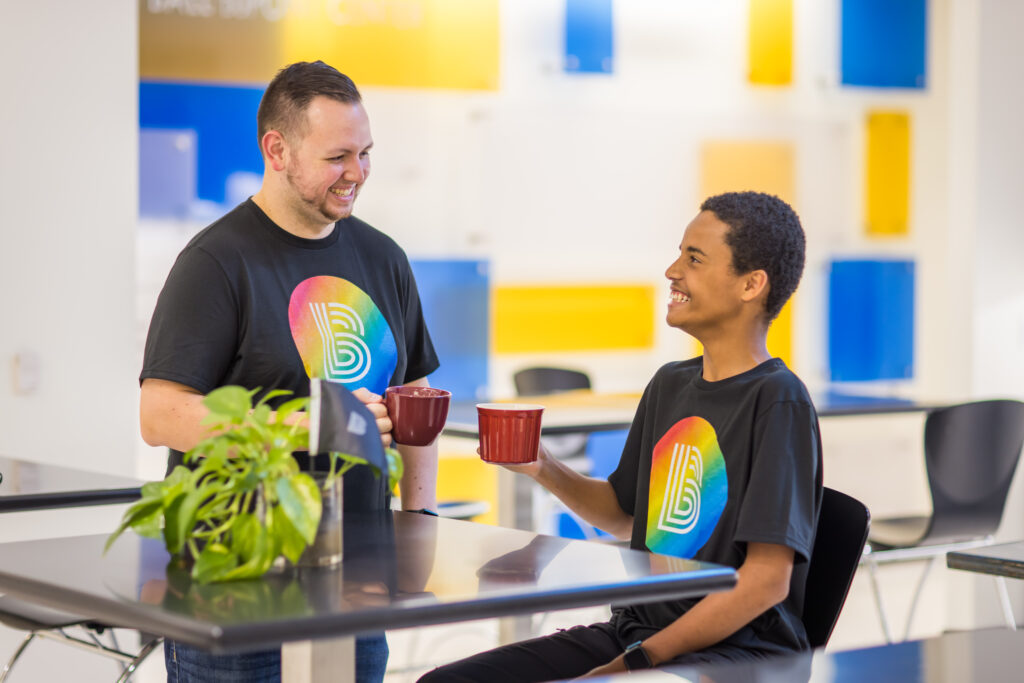 Match Support
Each match is assigned a Match Support Specialist – a trained staff member at BBBS-ETN – who is there for professional support for all parties involved in the match. Their role is to ensure the success of a match, including giving advice, promoting match activities, and helping work through any conflicts that may arise in the mentoring relationship. The MSS keeps in contact with all parties in the match throughout the entirety of the relationship, in order to check in with the Big, Little, and caregiver, including surveying all parties for feedback.
Match & Family Engagement
At Big Brothers Big Sisters of East TN, the spotlight is often on the relationship between a Big and a Little. The role that parents and guardians play in facilitating successful mentoring relationships is explored less often, but is equally essential. Because parents and mentors will need to collaborate in pursuit of the child's best interests, this focus on communication is emphasized from the very beginning of their involvement with BBBS. Before the match begins, BBBS' Enrollment staff work together to help all parties understand the importance of regular communication and to ensure that they feel comfortable and committed to talking with each other on a regular basis.
Our BBBS-ETN Match and Family Engagement Manager plans intentional enrichment activities and events to support long-lasting, impactful relationships between mentors, mentees, families, and the BBBS-ETN team.
Throughout the year, we offer events to engage our Bigs, Littles, and Littles' families involved in our Community-Based Program. The event details are communicated directly to Bigs and Littles' families via Match Support and our Match and Family Engagement Manager. Are you a Community-Based Big looking for some activities to do with your match? Click here to view the Match calendar and a list of activities available to you and your Little!
Schedule an inquiry call
To schedule an inquiry call, please fill out our contact form here.
Please allow 2-3 business days to be contacted by a BBBS-ETN staff member.
FAQ for PARENTS/CAREGIVERS
Is there a cost to enrolling a child at Big Brothers Big Sisters of East Tennessee?
There is no cost for your child's enrollment and participation in our programs.
What are the eligibility guidelines for enrolling a child in one of your programs?
Parents or caregivers should complete an application for their child to be enrolled. Children must be at least 6 years of age and a maximum of 16 years old to qualify. The Littles must also have the ability to participate in the match, such as the availability to meet with their Big. Parents should be prepared to participate in an orientation and child safety training prior to their children being accepted into the program.
What are the safety precautions that you all take for Littles enrolled?
All Bigs are screened through a background check, child abuse registry check, fingerprinting process, reference checks, and a one-on-one interview with a staff member on our Enrollment Team. Our Bigs are also required to complete pre-match training that involves health, safety, and confidentiality, and they have ongoing training opportunities throughout the life of the match.
How is a Big chosen for a Little?
Both Bigs and Littles complete a one-on-one interview during the screening process for enrolling in our programs. During the interview, we will get to know the participants, and we keep this information in mind in order to match volunteers and youth based on interests, backgrounds, and personalities.