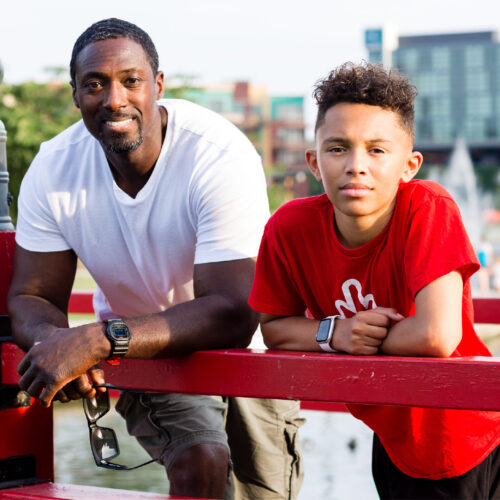 BIG BROTHERS BIG SISTERS OF EAST TENNESSEE
PROGRAMS &
INITIATIVES
Our core mentoring programs pair a Big and a child. Screening adults, support, and structure create effective mentoring and long-lasting results.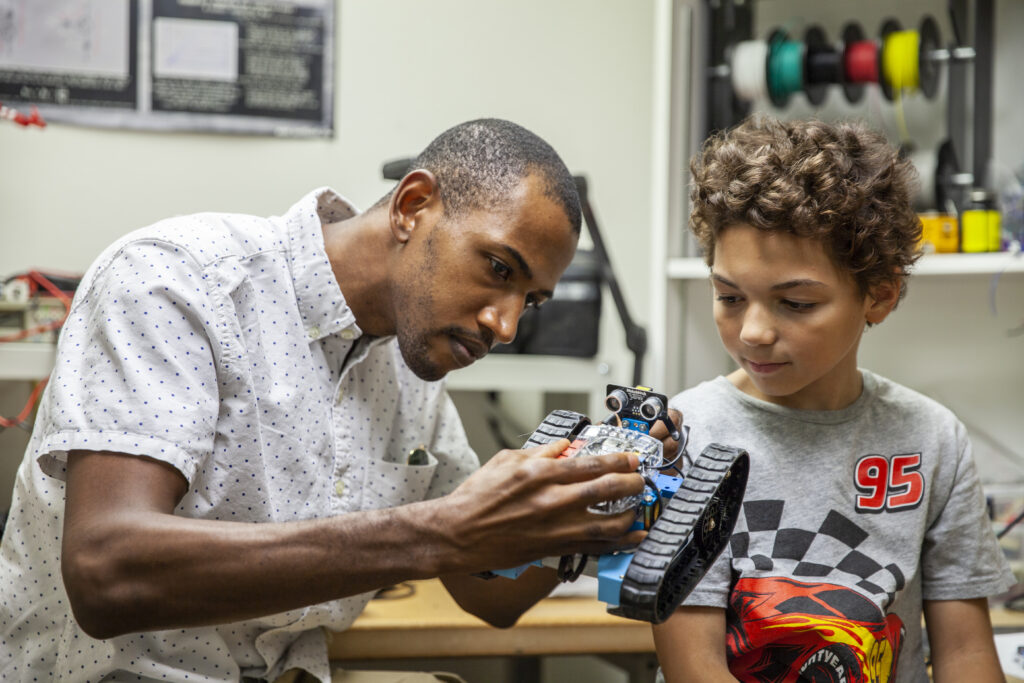 Big Brothers Big Sisters makes meaningful mentorship matches between volunteers (Bigs) and children ages 6 and up (Littles). We then provide the training, resources and support necessary for those matches to succeed in our Community-Based or Site-Based programs. Each match is hand-selected by our team based on shared interests, geography, and personality.
SITE-BASED
In our Site-Based program, Littles meet with their Bigs at a central location, such as a school or an after-school program. Bigs come to the site-based location once a week for 30-60 minutes at a time, often during lunch, recess, or another break. These activities are teacher-approved and provide the opportunity for Littles to participate in an on-site activity with their Big at a safe and secure location 3-4 times per month.
Expectations
The minimum age to be a Big in the Site-Based program is 15 years old, and 6 years old to be a Little. Bigs must be able to see their Littles once a week during the school year. The minimum requirement for a match in this program is one calendar year.
Knox County

Bearden Middle
Beaumont Magnet Academy
Belle Morris Elementary
Christenberry Elementary
Dogwood Elementary
Green Magnet Academy
Lonsdale Elementary
Maynard Elementary
Northwest Middle
Ritta Elementary
Sam E. Hill Primary School
Sarah Moore Greene Magnet Academy
Spring Hill Elementary
South Doyle Middle
South Knoxville Elementary
West View Elementary
Whittle Springs Middle
Vine Middle

Blount County

Alcoa Elementary
Alcoa Intermediate
Alcoa Middle
Montgomery Ridge Intermediate

Anderson County

Linden Elementary
Robertsville Middle

Tri-Cities

Kingsport
• Boys & Girls Club
• Girls, Inc.
• Kennedy Elementary School

Bristol
• Boys & Girls Club
• Girls, Inc.

Johnson City
• Boys & Girls Club
Community-Based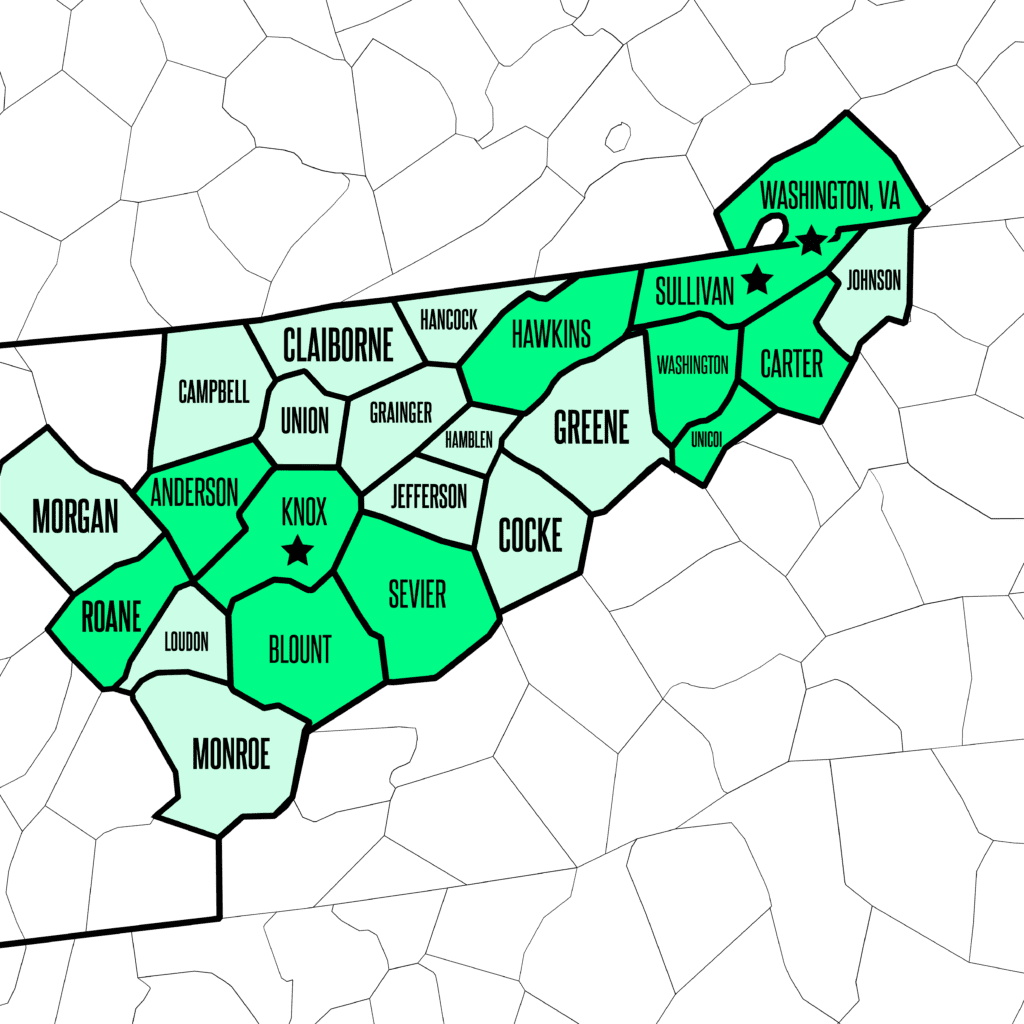 Our Community Based program involves Bigs and Littles participating in no-cost or low-cost activities in the community. The Big picks their Little up and takes them to participate in an activity together for about 2-3 hours at a time, two to three times a month. Outings are focused on creating purpose using the REACH concept.
REACH Activities are activities with a purpose. They are a great way to have fun and meet other Bigs and Littles while helping your Little with their identified goals and desired outcomes. REACH stands for Recreation & Social Competency, Education & Life Skills, Arts & Culture, Community Engagement and Health & Well-Being. Providing structured activities makes volunteering easier for our Bigs, improves the quality of the match and strengthens the bond between Big and Little. In other words, Project REACH helps keep Bigs and Littles together longer, resulting in more positive outcomes for children.
More than 100 community partnerships help make REACH possible through discounted services and donated tickets to sporting, cultural and recreational events.
Most REACH activities are free of charge to the Big and Little. You can help provide these enriching experiences by making a financial or in-kind donation to Big Brothers Big Sisters of East TN.
See a list of Big Deals here.
Expectations
The minimum age to be a Big in the Community-Based program is 23 years old, and 6 years old to be a Little. Bigs must be able to see their Littles 2 to 3 times per month for 2 to 3 hours at a time. The minimum requirement for a match in this program is one calendar year.
Big Futures
Our Big Futures program focuses on empowering high school-aged youth in providing pertinent life skills to prepare them for the successful transition toward their future aspirations. Throughout the program year, community and site-based plus high-school-aged matches will have the opportunity to participate in the in-person Big Brothers Big Sisters sponsored event sessions. In terms of event sessions, the program will offer matches the opportunity to learn about topics such as financial management, SMART goal setting, an overview of post-secondary program options, resume writing and interviewing techniques, and organizational skills. These activities will take place throughout the program year, on weeknight evenings.
Questions? Contact us here!
S.T.E.M. Mentoring
Littles in this program are matched with Bigs that have careers in a S.T.E.M. (Science, Technology, Engineering, and Math) field. This program is made possible by Arconic Foundation.
Bigs in Blue
Bigs In Blue develops strong one-to-one relationships between police officers and our Littles. The vision of the program is to provide a structure within our mission to help disarm bigotry, racism, and preconceived stereotypes at all levels. It is connecting police officers to the young people they serve, for a better appreciation of communities, families, and the adverse conditions many live with every day. Many of our agencies report very positive results from the dialogue and greater understanding resulting from these matches. There are many ways this important program can be improved and towards that end, we are establishing an agency-led task force to examine and make recommendations on how we can be advocates for change in our local communities and how this program can better serve young people.
If you would like to partner with us for the Bigs in Blue program, you can contact us here!
High School Bigs
The High School Bigs program is for potential Bigs who are currently enrolled in high school and hoping to volunteer in the Site-Based program. Bigs will meet with their Littles once a week for one hour at their Little's elementary school, middle school, or after-school program. Personal transportation is preferred.