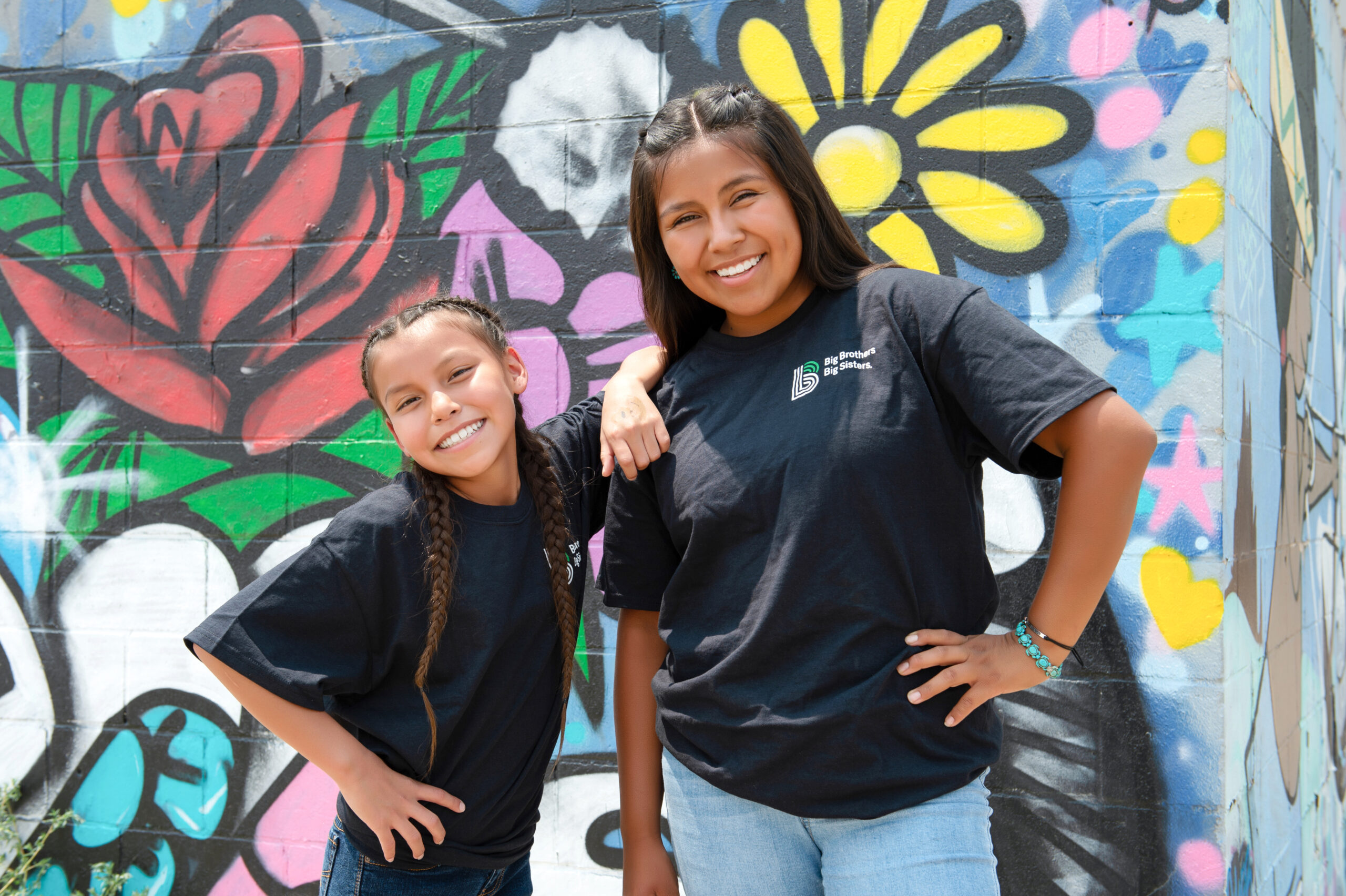 BIG BROTHERS BIG SISTERS EAST TENNESSEE
Big Brothers Big Sisters of East Tennessee is pleased to offer scholarships to support mentees in their postsecondary pathways, including two- and four-year schools, trade schools, and certificate programs.
Eligible seniors, as well as those currently in a postsecondary program, can apply for multiple scholarships through one application.
ALL APPLICATIONS ARE DUE MARCH 10, 2023.
Scholarships that were awarded in 2021 include:
BBBS-ETN General Scholarship Fund
The Austin French Memorial Scholarship
The Michael Harrison Manrod Scholarship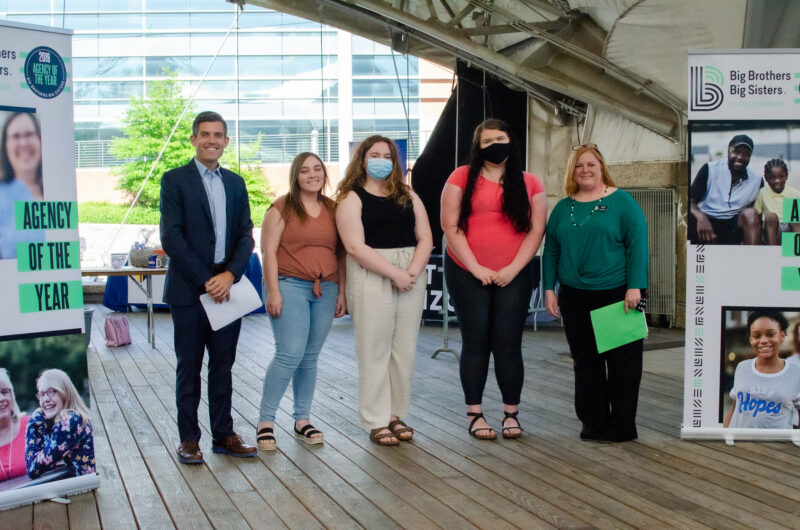 Pictured from left: Former CEO Brent Waugh, Cassie Fuston, Jordan Madewell, Lexus Garner, and Chief Program Officer, Jen Davis at the 2021 College and Career Fair
2022 Winners
BBBS-ETN General Scholarship Fund
Alexis Ahern, matched with Big Rachel since 2020
Demyria Jones, matched with Big Laura since 2015
Ariya Rice, matched with Big Rosa since 2018
William Watson, matched with Big Cal since 2012
Aniiah Matthews, matched with Big Mary since 2014
Haven Taylor, matched with Big Joan since 2011
Daniel Troy, matched with Big Dakota since 2018
Noah Carr, matched with Big Andrew since 2018
The Austin French Memorial Scholarship
This Memorial Scholarship honors the memory of Austin French. Austin met his Big Brother Bill on April 8th, 2010, as a third-grader at Lonsdale Elementary in Knoxville, TN. The friendship grew over nearly a decade, through Austin's graduation from Oliver Springs High School in May 2019. Tragically, Austin passed away in an automobile accident five days after his high school graduation.
Though the scholarship is open to all Littles, priority will go to mentees who plan to attend trade school, Austin's dream after high school. Additional weight will be given to Littles involved in a long-term match, as well as those who demonstrate Austin's values and character traits such as kindness and respect for others, a strong work ethic, and devotion to family.
Austin French Memorial Scholarship recipients will be selected by Austin's Big Brother, Bill; the Big Brother of Austin's biological brother Kameron; and members of Austin's family.
2021 Winner:
Derrick Werkheiser – Derrick was matched with Big Austin in December 2014.
The Michael Harrison Manrod Scholarship
Michael Harrison Manrod (1992-2020) attended St. Mary's Catholic School and graduated from Knoxville Catholic High School in 2010, lettering in ice hockey. He attended New York University and the University of Tennessee where his studies focused on psychology and social work, with the goal of applying his education to help others. Michael later discovered his true calling, cooking, and was excited to be accepted into the Culinary Institute of America for Fall Semester 2020. Sadly, Michael passed from complications due to long-term epilepsy three months before the start of that semester.
Despite being challenged with health issues throughout his life, Michael consistently displayed genuine concern for others. He possessed a keen wit and sense of humor accompanied by a passion for history. His knowledge was vast and impressive. Michael was deeply loved by his family and friends.
The Manrod Scholarship was created in memory of Michael's compassionate nature and in recognition of those dreams he did not have the time to fulfill. It is a response to transform the end of one life into new and hopeful beginnings for others; a response to provide opportunity. This scholarship is designed for an aspiring college or trade school student, preferably first-generation, who demonstrates a passion for learning, compassion for others, and an ability to stare adversity in the face and carry on.
2021 Winners:
Aniiah Matthews – Aniiah was matched with Big Mary in September 2009.
Grayson McGinnis – Grayson was matched with Big Tyler in June 2013.
Jazmine Walker – Jazmine was matched with Big Whitney in November 2017.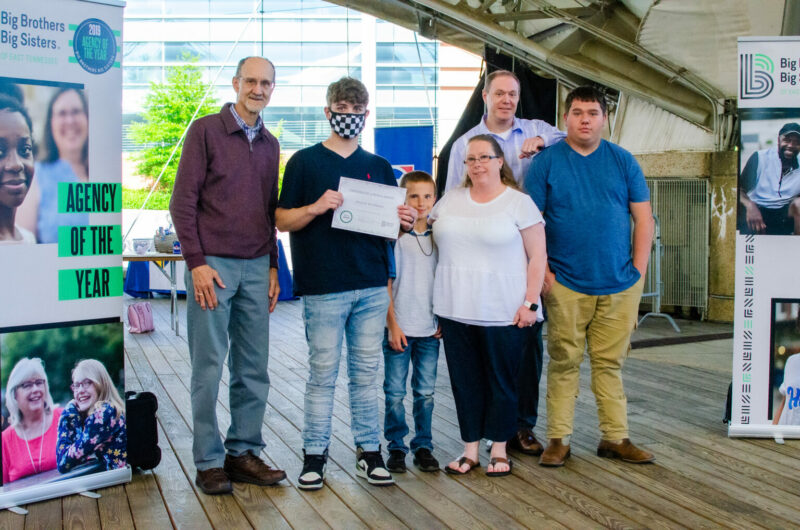 Pictured from left: Bill Parks, Austin French's Big Brother; scholarship winner, Derrick Werkheiser; Landon French, Austin's brother; Lydseann French, Austin's mother; Kameron French, Austin's brother; and (in back) Gabe Denny, Kameron's Big Brother at the 2021 College and Career Fair."